Today, I'm typing from the Kirkwood Highway Library, over in Newark. It's a cool mid-size structure, with big plate-glass windows and a fancy decorative facade. It's got a good selection of books, too, so it's not too bad.
I'm on an exchange with Elder Hidalgo, a cool elder from Chile. About 5'5", he's a good elder with a good testimony. Strappy little guy, too. He is the smallest of the four spanish elders in our district, but he's always good for anything. Little by little, he's overcoming his fears, and becoming stronger. Just last friday, we had a wrestling match. (A little uneven, I think: Me, at 6'3" and 270 pounds, against him at 5'5" and maybe 170.) I won, but in the course of the match, I shattered the crystal on my watch.
So, here in Newark, I went to the Farmer's Market. It's a nice little warehouse-ish thing, and has a jewelery kiosk where they sell cheap watches. Now, I sport a ten-dollar watch, and am feeling slightly guilty for supporting people who make cheap stuff in China. Because I was actually able to inspect the watches, and check that they actually work, I was able to avoid buying a cheap, imitation product. (To read more about fake watches, click
here
and
here
.)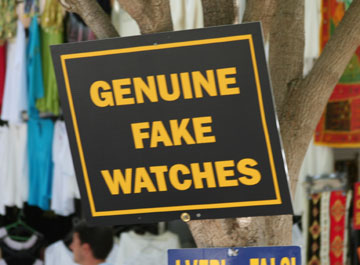 There was one watch that I really admired. It was nice, shiny, had three dials, and I could see myself wearing something like that. But, when I asked to see it, I took a nice close look at it. Those three dials for date, month, and year? Painted on. Total fake.
In life, we need to check out what we do. Really, that's all that we ask anyone to do. We have a message. As in all things, we need to check whether something is real or not.

A plastic hat is probably a good sign of a fake.
 Imagine that you're walking down the streets of New York city, and a stereotypical guy in a trenchcoat walks up and spreads his coat wide. Inside, there's row after row of glittering watches: Rolex, Breitling, TAG Heuer, all in gold, leather, silver, and of course very expensive. The man rubs his unshaved cheeks, and says, "$40 bucks. Take your pick."
Now, it's possible that the watches are real Rolex watches. But, how can you be sure?
The only way is to compare it with the genuine product. That's really all that we ask people to do: Look at what we have. Compare it with the Bible, always having an open mind. Most important, ask God. I'm sure
He
knows what's true and what's not. If you ask him, you can be confident that he will answer your questions.